I can't find the post, but a month or two back I decided that I really ought to try to get hold of the complete English translation of the classic Syriac author Aphrahat.  He wrote 26 sermons, and a selection was included in the Ante-Nicene Fathers series so is online.  But few people even know there is a complete translation, made in Kottayam in India a few years ago and available in two volumes from the St Ephrem Ecumenical Research Institute at $25 a vol.
At least, in theory it is available.  In practice SEERI are quite hard to deal with.  I wrote and asked, and got a reply asking for my postal address and how I proposed to pay.  I offered to pay using Xoom.com, and heard nothing more.  I was thinking yesterday what to do.  Gorgias Press do a version of the book, at some very high price.
But down at the post office this morning, and the parcel is not the humdrum item that I was expecting, but a parcel from SEERI.  Yep — it's the Aphrahat!  The packing is not great, and rather torn, but the item has arrived fine!
Opening it was harder than it looks.  But once open, there were the two volumes!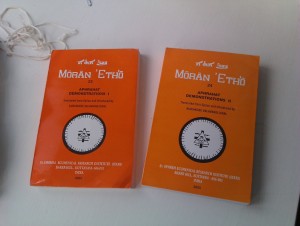 A catalogue search reveals that not a single library in the UK possesses a copy of these.
On opening them, I find that vol. 1 contains a lot of introductory matter, obviously from a thesis, and a preface by Sebastian Brock.  This is solid stuff, in other words.  Now if only it was online!
But now I have to work out how to pay them.  Western Digital is possible; Xoom is possible; but in both cases I need information from SEERI to give them.  I look up their address in Google Maps and they are in the heart of the city of Kottayam.  It is a bit sad, tho, that it is so much work to give them money.  Let's see what happens!
PS: An email from the library tells me that Brockelmann 2nd ed. vol. 1 has arrived.  Not that I can do much about that until Monday, but good to know.
Now I need to do something with the proposed design leaflet for the Patristics Conference, advertising the Eusebius book.  The final revision awaits!  I've already paid for the insert yesterday.  All costly in time and money, N.B.