I returned to my room ca. 1pm, and uploaded the last blog, got photos off the mobile phone, ordered various books for purchasers and so forth.  But a couple of further ideas caused me to return to the Examination Schools.  As I did so, it became clear that all the major publishers were packing up.  There was a rumour that the trade exhibitors would all be kicked out by 3pm, so of course I collected my stock and display and took it back to my room.
I think the conference organisers should look at this.  The workshop sessions actually go on until 6pm, and there is no good reason why the displays should disappear before then.  In fact the obvious closures and departures affect the mood of the conference and hastens its end, quite unnecessarily.  It feels like the end, quite a few hours before it does finish.  Most of us, I suspect, are still here on Saturday.
Something I forgot to mention is that one of the visitors to the stall demonstrated the use of Amazon kindle on a hand-held mobile phone, with a screen no larger than my own.  This I need to look into, for it was quite visible and I carry that phone (and camera) everywhere.
The next thing that I did was to go up to the De Gruyter stand and look for Christophe Guignard's book on the letter of Julius Africanus.  I found it, and quickly found that it contained a lot of interesting information on Eusebius Gospel Problems, and also on the catena of Nicetas.  The price was 70 euros — half price — and I weakened and bought the copy.
Next I went to the IVP stand.  Thinking about the idea of a book on The Right Use of the Fathers, I realised that there was no better time to discuss it with that firm than today, as a delegate at a conference on patristics which had held a session on "Evangelicals and Patristics".  But sadly their display had already gone. 
I also bumped into one of the translators of my book, who wanted a bunch of the leaflets to hand out to promote sales.  I was distinctly chuffed by this, and made sure she got what I had.
Then back to my room — it was nearly 2pm by this point — and time to crash out.  I'd acquired a distinct pain in my back, hunched over a table at the stall, and wanted to dispose of it.
I had arranged to meet Clayton Coombs at the Kings Arms at 3pm, to discuss Eusebius, so off I went, up New College Lane, to the Bodleian, and then to the Kings Arms.
We had a very pleasant discussion, in which it came out that some of his students had also written to him, asking for advice on this issue of how Christians should respond to advances from Catholic and Orthodox people, playing on their existing belief in the bible and trust in Christ and arguing that "the body of Christ should be united here on earth in a single organisation".   This appeal to visible human church is powerful; but it is also selective.  If you accept that the church can add to the teachings of the bible, as the Orthodox do, then you have to accept Cyril of Alexandria as a great saint and doctor, as the Orthodox do.  After a morning listening to details of his campaign of bribery to get Nestorius condemned after Ephesus in 433, it seemed doubtful to me that we would want to pay this price.  Likewise if we take the Catholic view of the apostolic succession and the primacy of the Pope, it is unlikely that most of us want to treat Rodrigo Borgia, Pope Alexander VI, as anything but a reprobate. 
There are, of course, arguments around these problems, and it is not my purpose to attack Catholicism or Orthodoxy.  The Catholics have been under attack by the world because they will not conform, and I honour their faithfulness.  But there is a reason why Protestants believe as they do.  There is a reason why we rejected the superstitions of the medieval Catholic church, and the corruptions of the Borgia period.  And it is a good reason — and those who wish to adopt either Catholicism or Orthodoxy need to be aware that there is a price to pay, in terms of accepting a great deal of history which is unacceptable, immoral or revolting.
All this, and much more, then in 45 minutes.  For I found that, despite the impression that the conference was over given by the exhibitors leaving, that there were a whole series of workshops at 4pm.  One of these I had highlighted, and so we made our way back from the KA to the Schools, and to Room 6 — nearly all the papers I went to were in Room 6, for some reason — to hear it.
The workshop was on Biblical Quotations in Patristic Texts.  There were four speakers, running from 4-6:30, each given half an hour with room for questions and discussion.  The first speaker was Laurence Mellerin, Biblindex, Online index of biblical quotations in early Christian literature.  This was an overview of the history of the project, details of the new website, and then a lot of detail on how biblical quotations were chosen, classified, etc, and how allusions were handled.  The material was good, and the importance of this free site can hardly be overstated.  The project also includes all books as "biblical" which get treated as such by any father in antiquity, including some of the rather oddball items from the Ethiopian church.  But unfortunately Laurence — who is a woman, by the way — ran on well past her time, and, speaking in a low voice and a French accent, lost my interest some time around the half-hour.  I began to fiddle with my mobile phone, and see what I could pick up on the internet!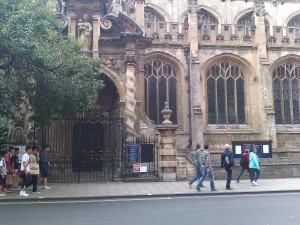 The next speaker was Hugh Houghton from the Vetus Latina project, who was much better but also numbingly technical; and I realised that I wasn't doing justice to either, and made a retreat.  It was 5pm at that point.
After this, I sauntered gently up the High street.  It was still warm and humid, although a bit grey, and, in my shirt-sleeves, I was very comfortable walking up to the Randolph Hotel and back, just to enjoy being in Oxford. 
This evening there is the final event of the conference, at the official University Church (note the capital letters) of St. Mary the Virgin, where three people will give some kind of address to the remaining few still on their feet, and finally the conference will be wrapped up.  I'm going, any way.  I have thoroughly enjoyed the conference.