The excellent Ste Trombetti has discovered online a couple more drawings made in the days when more of ancient Rome existed than does now.  This is really valuable, since locating such items is difficult for most of us.
These drawings are by G. B. Mercati, from 1629, from the series Alcune vedute et prospettive di luoghi dishabitati di Roma (Some Views and Perspectives of the Uninhabited places of Rome).  They are online at the Fine Arts Museums of San Francisco, and the series is visible here.
The two etchings given below depict the remains of the huge temple on the Quirinal hill, thought to be the Temple of the Sun built by Aurelian in 274 AD, but generally today believed to be the Temple of Serapis.  Remains of it may, apparently, be found in the Colonna gardens even today, but I have yet to locate them.
The first one is of a view which is new to me (plate 26).  You can click on the images below to get the full-size picture: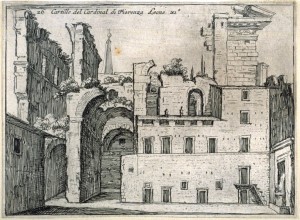 Here's the second one (plate 27):
I think that we owe Ste Trombetti a debt of thanks.