The Turkish press reports that farmers ploughing a field at Urfa in South-East Turkey struck a hard object, which turned out to be a tablet inscribed with Syriac, using the Estrangelo alphabet.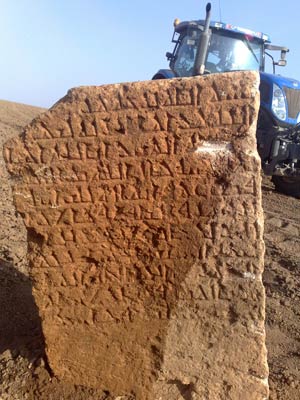 It was found about eighteen inches below the ground, and weighs about 100 pounds.  It seems to be about 30 x 60 (either inches or centimeters — I couldn't work out). 
No word on what it says.  Apparently people at Harran university are going to take a look at it, but it will be placed in the museum at Urfa.
Urfa is the site of Edessa, the city whose Aramaic dialect became what we now call Syriac during the period after the conquests of Alexander.  The city was always central to Syriac culture, but was destroyed by the Moslems during the crusader period.
UPDATE:  I have had an email which tells us a little more:
"I am the founder of the www.suryaniler.com platform from Istanbul/TURKEY. I sent this news to George in order to find out what was the tablet about. Now, I am in contact with the museum archeologists of Urfa. They told me that the tablet is still preserved in the area it is found. When it is taken to the museum may be we can get wider size photo of the tablet.

I talked today to the Urfa Museum. They said; it will come to the museum few days later so that we can maybe get a bigger image. When there is an improvement I will inform you."