One of the images in Du Perac's 1575 collection of sketches of Rome is of the forum of Nerva.  Here's what he saw:
The Temple of Minerva is at the front left.
From the Murray guidebook of 1843, p.271, I learn that
Paul V (Borghese) took down an entablature and pediment in the Forum of Nerva to build a fountain on the Janiculum,…
A modern map of the imperial forums is here.  This extract shows the forum of Nerva:
Du Perac's view is looking up the forum, and along the right-hand side of the temple at the top of it.
An 1869 view from here is this:
There are a series of images (including Du Perac's) here.
But … I  gather there may be some confusion between the forum of Nerva and the forum of Augustus?  This site has an image by Piranesi, of what is plainly the same place.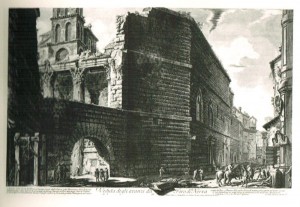 But the text on the page says "The Forum of Augustus (erroneously called Forum of Nerva)". 
Finally on Flickr I find this image of what can be seen today.