This morning I found some more material of interest about Old St Peters in Rome.
Firstly, I found a rather good line-drawing of the appearance of the church here.[1]
This is really helpful in trying to visualise Constantine's basilica.
The "atrium" at the front looked like this (drawing by G. Grimaldi), although normally it must have been full of people.  The murals on the wall of the church were medieval.
A partial map is here:
But I learn that a detailed set of drawings and plans was made by Martino Ferrabosco, just before the demolition of the old church.  His very detailed and labelled plan is here (warning: the zoomable online reader caused my eyes to malfunction for 10 minutes with flickering zigzag lines):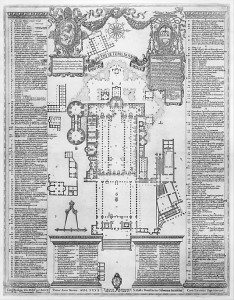 And the following image is a detail from an image in the Nuremberg Chronicle (1493):
I wonder where the Ferrabosco dossier is?
UPDATE: It seems that Martino Ferrabosco published Libro de l'Architettura di San Pietro in 1620.  An article (in Spanish) about it is here.
[1]The source URL given on that page has vanished, so I don't know the source of it.↩