It's that time of the year, when the malevolent delight in posting wild claims that Christmas is "really" – in some undefined sense of "real" – the festival of Sol Invictus, recorded only in the Chronography of 354.
Few of us know much about Sol Invictus, the state cult created by Aurelian in 274 AD.  The literary record is very scanty, as I discovered some years ago when I created a page containing all the sources here.[1]
I found myself wondering … what does Sol Invictus, Aurelian's god, actually look like?  If you do a Google search, what do you get?
The answer is frustrating: you get very little.  In fact most of the common online images attached to the name are NOT Sol Invictus.
Let's start with something definite and positive.  Sol Invictus does appear, labelled as such by name, on the coins of the tetrarchy, and continues to appear as late as Constantine.  Here are a couple of examples.  (As usual you can click on the images for a larger size picture.)
The first example that I have is a coin of Probus, with Sol Invictus on the reverse, driving a four-horse chariot, with a pointy crown – which Probus also wears[2]
Here's another example, this time of Constantine, who derived his legitimacy from the tetrarchy and whose coins continue its coin-types until 325 AD.  Does this too have an orb?[3]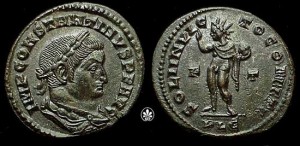 Here the pointy crown is more clearly a crown of rays.  Sol Invictus is depicted standing.
Here's yet another follis of Constantine, via a nice collection of Sol Invictus coins at Coin Talk here, and very clear:
This from 317 AD, from Trier.[4]
Yet another Constantine is this beautifully clear one, with a gorgeous picture of Constantine (from Cointalk):[5]
Better yet, again from Cointalk (I reproduce the details in case that site disappears) we have this from the reign of Aurelian himself, also holding a globe:[6]
But the coins do not help us as much as we might think.
Here's our first example – a coin of Elagabalus, who also worshipped a "Sol Invictus", who was actually Baal of Emesa.  The right hand is upraised, but the left hand holds a whip.[7]
And here's a denarius of Alexander Severus:[8]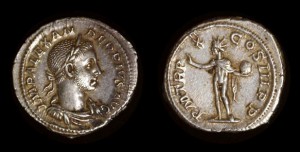 This one of Florianus includes Sol, with orb.  He briefly followed Aurelian, so perhaps this is Sol Invictus.  But if so, he is not distinguishable from Severus, is he?[9]
This does not really help us to identify a distinctive iconography for Sol Invictus, it seems.
But the situation is worse when we look at stuff that is often labelled as Sol Invictus online.
First, let's look at this image.  This is a Greek silver Kylix, 3rd century BC, from Panticapaeum in the Crimea, and depicts Helios.
This lovely object bears much the same image as we see on the coin of Probus, almost 6 centuries later; yet this is not Sol Invictus, but just boring old Helios, the personification of the sun.
At the Metropolitan Museum in New York we find the following fragment of a relief (also this one from Roger Ulrich on Flickr):[10]
The museum dates this to 1st-2nd c. AD, presumably by the lack of use of the drill.  But this is not Sol Invictus either: this is Helios, the sun: the man to the left is a Scythian slave about to flay Marsyas.  The relief is probably from a temple of Apollo.
The next item is from the British Museum website, inv. 1899,1201.2 (this particular photo here):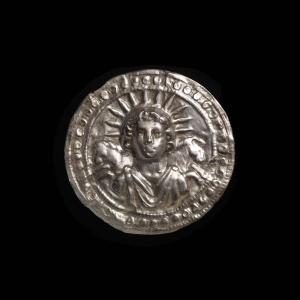 This is a disk of silver leaf, from Pessinus in Asia Minor, 3rd century.  But … again, why is this not just Sol, or Helios?
Now some Google results.  This one appears often enough, and the words "Sol Invictus" appear in the inscription.[11].
But … at the bottom of the inscription is a clear reference to "Iovis Dolichenus", Jupiter Dolichenus, the Syrian deity beloved of the Severans.  The sacking of Doliche in the mid-3rd century put an end to this cult, and the last monument is supposedly from 268 AD, before Sol Invictus was invented.  And we can see in the relief, not just Sol, but also Luna, wearing her crescent, and some other chap, at least as important as Sol.  So this is certainly NOT Sol Invictus, but merely Sol, and "Sol Invictus" in the inscription merely is Latin for "the unconquered sun".
Here's another favourite, complete with inscription "Soli Sanctissimo Sacrum…":
But … there is another inscription on the object, although I can find no photograph of it – in Palmyrene.  And this, rather than talking about Sol, bluntly states that the god is Malakbel!  This is a mid-3rd century item, although closer to Aurelian.[12]  So again, this is not Sol Invictus.
On to the next one:
But this is CIMRM546, and Mithras, not Sol Invictus at all.  Again "sol invictus" merely is Latin for "the unconquered sun", rather than the title of the state cult.
There ought to be a paper somewhere on this subject.  But the impression that I get from this, far from scientific, survey of material is that there is no distinctive iconography of Sol Invictus, who is depicted using standard images used for Sol, or even for Helios.