A wonderful article in a Turkish newspaper here (via Twitter).  It seems that someone has uncovered the remains underwater of a basilica at Nicaea (modern Iznik), just offshore in lake Nicaea.  It's thought to have been demolished after the earthquake in the 8th century.
Modern Nicaea is just a small Turkish town nestled within the massive double Roman walls, themselves set on a plain of endless olive groves.  It's an evocative place, of a world before modern "development".
I can't make much sense of the article, even with Google translated, but the photos from the article are below.  Aren't they wonderful!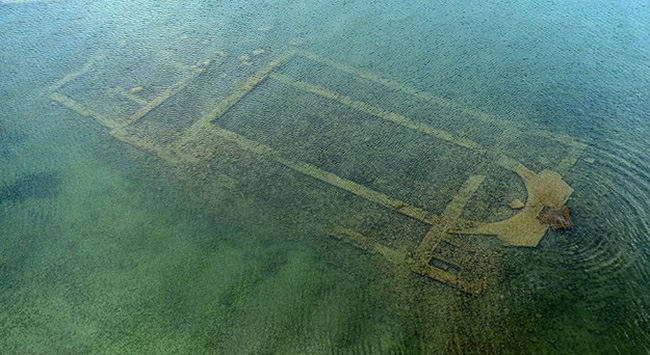 UPDATE: A new tweet from IsinElicin draws my attention to this article in English:
1500-year-old basilica discovered under Lake Iznik

A church which dates back to the year 500 CE was unearthed during excavations conducted under in the depths of Lake Iznik in Turkey's western province of Bursa.

Professor Mustafa Sahin from Bursa Uludag University's Archaeology department said that the first traces of the church was first seen 20 meters from the beach and that they have been conducting excavations to get more clues about the church.

Byzantine experts are still carrying out research to to find out who the church belonged to. They have predicted the ruins to remnants of St. Peters Church, which was mentioned in some Christian books, said Sahin.

It is not exactly known when the church was built, but archaeologists predicted that it must have been built in 500 CE.

The details of the church will be released along with the excavations.
Well done Dr Sahin.
Note that Bursa was Prusias in antiquity, and is today mainly an industrial city (with very, very large car manufacturing plants by firms like Renault).
UPDATE: A commenter has pointed out a brief article in Hurriyet which reads:
Remains of Byzantine basilica discovered at the bottom of Lake Iznik BURSA – Dogan News Agency.  January/28/2014

The remains of an ancient basilica have been discovered about 20 meters from shore in Bursa's Lake Iznik, according to local archaeologists.

"We have found church remains. It is in a basilica plan and has three naves," said Mustafa Sahin, an archaeology professor at Bursa Uludag University.

The foundations of the church are currently lying in water that is about 1.5 to two meters deep.

"This church's remains are similar to the Hagia Sophia in Iznik. This is why we estimated that it was built in the fifth century A.D.," said Sahin.

He said the structure was discovered while photographing the city from the air to make an inventory of historical and cultural artifacts.

After the discovery, the university informed the Iznik Museum Directorate and the Culture and Tourism Ministry, asking that the archaeological site be protected, Sahin said.

There are many rough stones at the site, he said. "This shows that that the structure collapsed. Iznik has gone through many earthquakes that destroyed such structures. The best known is the one that occurred in 740 A.D. Our first observations show that the structure collapsed in this earthquake and that the coastal side was submerged. The church was subsequently not rebuilt."

(The foundations of the church are currently lying in water about 1.5 to two meters deep. It is estimated that the structure collapsed in an earthquake. DHA photo)